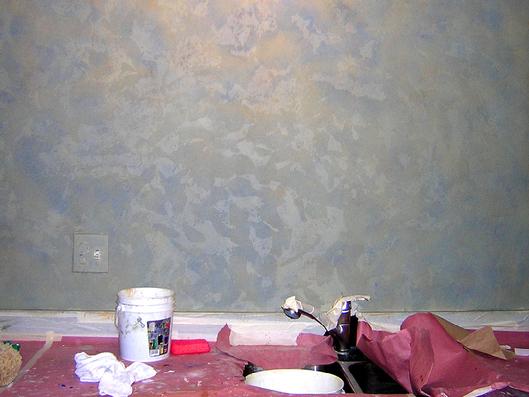 Glazed textural plaster (Nova Color - see below) in a kitchen in Santa Monica
Nova Color is the least expensive highest quality water based
paint and acrylic medium, gels and gessoes in the USA.
They ship all over and have a retail store in Los Angeles.

8 images below - Encino, California 2006: Statue Repair -
Weathered statues received a blue primer coat of Larsen Products "Weld-Crete". Concrete repair using CTS RapidSet "WunderFixx".
Finishing with Benjamin Moore exterior water based primer and exterior water based flat white paint.
A forest fire erupted on the mountain behind these statues as work
was ongoing. Just enough time to grab a camera.
Click on thumbnails for larger views (opens in a new window).
Madreperlato venetian plaster on all walls of an octagonal room.
Showcase room designed by Nicholas Phan Design of Santa Cruz, California.
Detail of Madreperlato venetian plaster below.

Updated February 2020 Ancient Finish - Romanelli Wallcovering
180 Talmadge Road, #9
IGO Building,
Edison, NJ 08817